Home
Florida Cities
Orlando
Orlando , Florida
City Flag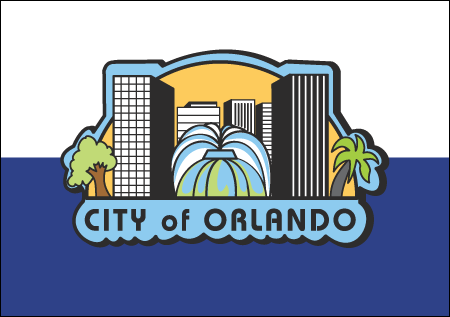 The flag of Orlando was adopted in June, 1980 by the Orlando City Council on June 2, 1980, the result of a design competition sponsored by the Orlando Kiwanis Club and the Council of Arts and Sciences. The city has no official flag till before 1980.The flag depicts the view of the city Orlando. The flag was flown into space aboard the shuttle Columbia in 1983 and again aboard the Discovery in 1985, logging a total of 278 earth orbits and more than 7 million miles. The City flag also accompanied retired U.S. Air Force Colonel Joe Kittinger on his historic solo transatlantic balloon flight in 1984.
City Seal
Orlando is also one of the major cities in Florida and it remains to be the county seat of Florida. 185,951 this was the population according to the 2000 census. But in 2004 the U.S. Census Estimates population count reported that the city had a total population of 205,648. Orlando is now reported to be the sixth-largest city in Florida, and its largest inland city. The most famous university called the University of Central Florida is located in the city Orlando. This university is the second largest university in Florida
Like the other cities of Florida, this city is also a very famous tourist spot. There are major tourist attractions in this area; the most prominent one is the Walt Disney world resort. This resort is located in the Reedy Creek Improvement District. The various other breadth taking attractions in this area is the Sea World, Universal Orlando Resort. Orlando also houses the largest McDonalds in the world. Orlando is now a fast developing city. There are a lot of buildings and tourist attractions to be built there, they are now under construction and would be built very soon. The Gatorland is an old and historic attraction in Orlando. There are about 50 million tourists, who visit Orlando every year.
Orlando is titled as "The City Beautiful" Of Orlando. The striking feature of Orlando is the fountain of Lake Eola.
History
The city of Orlando obtained its name after a soldier called Orlando Reeves In the year 1836. He ran a sugar and plantation mill in that area. This soldier had passed away in a war waged against the Seminole Indian tribe. The early people who settled in that place discovered that the soldier's name had been engraved in a tree. Assuming the place to be his grave area, people called the place as "Orlando's grave". Soon people forgot the grave and the city got its name as "Orlando".
Geography
Orlando is located at 28°32'1" North, 81°22'33" West (28.533513, -81.375789) GR1.
Orlando carries a number of lakes. It has been reported that the city holds more than 100 lakes. Some of the important lakes are:
Lake Apopka


Eustis


Griffin


Harney


Harris


Jesup


Monroe


Sand Lake


Conway


Tohopekaliga
The city of Orlando is spread in a low-lying area. But it has small sand hills; these sand hills were formed during the rock age due to the waves produced by high sea levels. Mainly the western side of the city only possesses numerous sand hills. The sinkholes present in this region are due to the limestone caves. Archeologists also say that many of the city's lakes were sinkholes at first.
Neighborhoods
The neighborhoods of Orlando can be listed as:
Airport North


Avalon Park


Azalea Park


Baldwin Park


Callahan


Central Business District


College Park


Colonial town North


Colonial town South


Conway


Crescent Park


Delaney Park


East Wood


Lake Davis / Greenwood


Lake Eola Heights


Metro North


Metro west


Millenia


North Orange


Ocoee


Park Central


Park Lake Highland


Pine hills


Richmond Heights


Roosevelt Park


Southwest


Stoneybrook


Thornton Park


Waterford Lakes


West Colonial


Windermere


Winter Garden
Climate
Residents of Orlando enjoy a sub tropical climate. They experience high temperature in summer which ranges from low to mid 90s °F. Since the city is located near the Atlantic Ocean, they enjoy the cool breeze and high humidity. The hottest temperature in Orlando is reported as102 °F (39 °C), which was felt on May 31, 1945.
During the winter season they experience a moderate temperature. The highest in cold temperatures range from 55 °F (18 °C) to 80 °F (27 °C. Normally Orlando does not experience very freezing temperatures. The coldest temperature so far recorded is 19 °F (-7 °C), which occurred on January 20, 1985. The month of January always has a cool climate.
Orlando receives rain showers during June to September. And during the months between Decembers to May the climate remains dry with no rains. Orlando also gets affected by a natural calamity, the "wild fire" during the month of May. Hurricanes visit this area but they do not cause a lot of damage. Since the city is sandwiched between the Gulf of Mexico and Atlantic Ocean, the breezes from these two water bodies clash against each other and result in heavy thunderstorms during the summer season.
Economy
Being a large tourist attraction, this city's major part of the economy is obtained from the tourist industry. Orlando also gets a huge profit through tourism. There are over millions of tourists who visit the Orlando region every year. Not only the tourist industry even the Convention industry is developing rapidly. One such important convention center is The Orange County Convention Center, which is built over two million square feet, is now the second-largest convention complex in the United States.
The other industries, which yield profit to the city, are the manufacture of aeronautical crafts. And since Orlando is located near the NASA Kennedy Space Center, it has got many technologically prominent industries. A lot of major hardware and software concerns have grown in and around the city like the IBM. Media, filming and gaming industries are gaining a lot of importance, some of the examples are the universal studios, Disney-MGM Studios, Electronic Arts, Full Sail School, and various other entertainment industries.
Since Orlando offers so many kinds of job opportunities, people flock to the place for its employment facilities. As a result Orlando is experiencing population explosion now, and the cost of living is very high there. This resulted in the shooting up of housing prices.
Demographics
185,951 people, 80,883 households, and 42,382 families are the residents of Orlando according to the census recorded at 2001. This city constitutes a blend of 61.10% White, 26.70% African American, 2.90% Asian, 0.34% Native American, 0.08% Pacific Islander, 5.41% from other races, and 2.54% from two or more races. 17.79% of the populations are Hispanic or Latino of any race. The Puerto Rican community forms the major part of the population. In 80,883 households present in the city, 24.5% have children under the age of 18, 32.4% are married couples, 15.4% are single women running the household, and 47.6% are broken families. There are about 8.5% of elderly citizens, above the age of 65 are living alone. The average sizes of a family and household are 2.97 and 2.25 respectively.
The average income of a household amounts up to $35,732, and the average income for a family is $40,648. a man earns up to $30,866, as his average income and a women's average income is around $25,267. The capital income for the city is $21,216. There are about 13.3% of families living below the poverty line. Around, 27.0% of youngsters below 18 and 12.6% of older people around the age of 65 and above are living below the poverty line.
Culture
Orlando has a large population of Hispanic residents and Puerto Rican communities. Due to its large population of Hispanic residents, this city has a lot of restaurants and radio stations, which follow the Hispanic tradition or way of living. Orlando radio stations play a lot of Spanish-language music, known as Reggaeton. Owing to its large Hispanic population the Orlando basketball is the only team in the NBA to have a Latin night.
Area Attractions
The tourist attractions in Orlando go without saying, some of them are:
The Walt Disney World resort.


Sea World Orlando


Universal Orlando Resor
The Walt Disney World resort is every person's dream the area's largest attraction; it has many theme parks such as the Magic Kingdom, Epcot, Disney-MGM Studios, Disney's Animal Kingdom, Typhoon Lagoon, Blizzard Beach, and Downtown Disney. Sea World Orlando is a very unique theme park, which proves to be very informative, as it displays a wide range of rare creatures and under water animals. It also offers exciting roller coaster and other rides. Universal Orlando is similar to the Walt Disney World; it also houses various adventure parks like Universal Studios Florida, City Walk, and Islands of Adventure theme park.
Other attraction in the Orlando area includes:
There is a botanical garden called the Arboretum in Orlando. This garden hosts a wide collection of plants and rare flowers.


Blue Spring State Park, which is the winter home of large numbers of Florida Manatees that come upstream from the St. Johns River to bask in the warm 72 °F (22 °C) waters of the springs. People arrive at blue string for fishing and canoeing.


The Zoological Park, located in Sanford is called the central Florida zoological park. This park houses a lot of creatures; it also has a butterfly garden and various other tropical creatures.


There is a famous shopping center called the Church Street Station, there are many shops, restaurants, nightclubs and bars in this mall.


Cirque du Soleil is the admired circus in Downtown Disney West Side, more than seventy world famous artists perform in this circus. The distinct feature of this circus is the acrobatics and special effects.


Cornell Fine Arts Museum is the great museum dedicated to sir. Cornell. This beautiful museum is located on the campus of Rollins College; you are allowed to view important aspects like significant loans, recent acquisitions, and items from the legendry collection of Cornell.


Cypress Gardens Adventure Park: this beautiful park has the pride of still maintaining historic gardens. This park was reopened on November 2004, with a lot of scintillating rides.


Discovery Cove is a constituent of the Sea World Adventure Park complex. You will be able to enjoy the coral reef; this tourist attraction also lets you to interact with the birds. If you are a dolphin lover, then this place is for you, because you get a chance to swim and play with the dolphins. .


Gatorland is a crocodile park which houses more than thousands of alligators and crocodiles. These reptiles have also made an appearance in movies, television shows and commercial spots. There are other kinds of entertainments also in this park like a bird sanctuary and other outdoor entertainments.


Hard Rock Live & Hotel in Orlando is the Hard Rock Café chain's features. The restaurant has a large area for concerts with a restaurant. This restaurant follows the Californian style.


International Trolley and Train Museum displays a lot of railroad trains models with the same sound and lightening effects. It also features a lot of mountains, waterfalls and tunnels. Tourists are allowed to ride on the model of the famous California Victorian Style half open/half closed trolley.


The Kennedy Space Center Visitor Complex is located nearby Orlando and south of Daytona Beach. The tourists can tour around the launch areas and watch the great giant rockets, and other new technologies. This tourist attraction remains open except Christmas, and other days of launch. There are also guided tours to other places of interest like the Astronaut Hall of Fame; NASA up Close, Cape Canaveral. Sometimes visitors even get a chance of having lunch with an astronaut.


Jack Kerouac residence: you can view the residence of the great American writer and novelist. His writings have proved to be an inspiration for others. His writings have focused on living with personnel freedom, with no interference from the society.


Harry P. Leu Gardens, this is an oasis which displays orchid house, beautiful gardens and colorful flowers. The main point of interest being the butterfly garden.


The world famous Mac Donald is present in Orlando. This has been a famous attraction centre in Orlando. You can enjoy the different games, a gift shop, and delicious food prepared. The goodies served there include Panini & deli sandwiches, pasta, soup, desserts, and hand-dipped ice cream, plus the standard McDonald's menu.


There is also another attractive restaurant, the Medieval Times Dinner & Tournament. This different restaurant features the medieval times. You can enjoy watching the knights on horse back competing with each other, sword fights and other medieval games. The dinner served is also medieval food. This different restaurant is located in Kissimmee.


The best place to view the tiffany collection is the Morse Museum of American Art, this place holds beautiful Tiffany collection, which boasts a huge assortment of Tiffany glass, an exhibit on the Tiffany home, and American paintings from the 19th century.


The Orlando Museum of Art has a display of portraits and landscapes of America. Which has ongoing exhibitions of American portrait and landscapes, these artworks belong to ancient American artists.


Ripley's Believe It or Not! Orlando Auditorium is a magnificent building with a very unique architecture. All weird different items are displayed in this museum. These exclusive distinctive items were collected by Robert Ripley. He traveled around the world for more than 40 years collecting these items.


Wekiwa Springs State Park is located in a large area, which comprises of the woods in Florida. You can enjoy yourself in this park by swimming, picnicking and fishing.


World of Orchids, this place is a green house with a large collection of orchids. They also ship these plants all over the world. Tourists will love this place as it features a natural forest like environment with a lot of streams and waterfalls. Since it is a green house, the air inside the place is warm and wet.